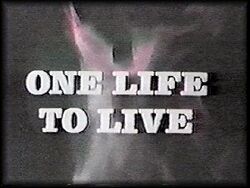 The original fireplace opening was replaced in 1975 with a visual of a mountain sunrise. This was replaced around late 1980 with a longer sequence which showed not just a mountain sunrise, but also shots of birds and a close up of the sun, and eventually the title superimposed over a shot of a blue sky with clouds. The theme music was rearranged as well.
On December 17, 1984, a new sequence designed by Wayne Fitzgerald debuted, which featured shots of places in Llanview superimposed with headshots of the current cast members, and ended with the headshots being superimposed on to a building, with the title superimposed on top word-by-word in rhythm to a new theme by Dave Grusin. Peabo Bryson subsequently sung lyrics over this new theme in September 1985, and this vocal was used as the new opening theme by 1987.
On January 2, 1992, a new title sequence emphasizing the romantic angle of the show debuted was designed by the television computer artistry group of Greenberg and Schluter. It featured, in a condensed form, a love story using the elements of a heroine, Mr. Wrong and Mr. Right. Prominently featured in the opening and closing visuals were swirling, windswept satin sheets. It was accompanied by theme music by Lee Holdridge, in a New Age-influenced arrangement.
On November 20, 1995, a new title sequence which featured posterized video headshots of each contract player and tinted action clips from the show superimposed over shots of landmarks and city scenes (reminiscent to the 1984-91 opening) made its debut, with Lee Holdridge and David Nichtern under the direction of then music supervisor Jamie Howarth, providing a new upbeat theme song to accompany it.
The theme song was remixed in 2004, and accompanied a new set of visuals (all ABC soaps revamped their titles this year), consisting of headshots of cast members, and the title superimposed over the abbreviation OLTL.
Community content is available under
CC-BY-SA
unless otherwise noted.