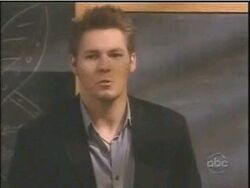 Scott Clifton (born October 31, 1984 in Los Angeles, California) is an American actor, best known for playing the character Dillon Quartermaine on the ABC soap opera General Hospital from 2003 to 2007. He has been nominated for a Daytime Emmy Award for "Outstanding Younger Actor" in 2004, 2005 and 2006.
Biography
Edit
Scott Clifton was born on October 31 in 1984, the only child of Ron and Faye Clifton, and raised in the Santa Clarita Valley. He credits his acting career to an event at age nine, when his mother threw a copy of a Shakespeare book in his lap and told him to read it. Clifton initially resisted, but then fell in love with the work and soon had much of Hamlet memorized. One of his mother's friends was an acting coach, who volunteered for a year to tutor him on weekends.[1] He started acting in commercials at the age of 16, and then tried to audition for General Hospital was rejected as not having the right look for what they were seeking. However, a few months later the producers called him back and cast him as Dillon Quartermaine, son of Tracy Quartermaine (played by legendary actress Jane Elliot). He also became part of one of the General Hospital teen romances, and was paired with actress Lindze Letherman, who played Georgie Jones.
Clifton has also guest-starred on shows such as Roswell, and had a recurring role on Judging Amy.
Along with acting, Clifton is also a singer/songwriter and has released two self-produced albums, Untitled and Unbeautiful.
When Clifton's General Hospital contract expired, he opted not to renew. His contract expired in July 2007.
He has a notable pet, a female canine named Mist that is — according to Clifton — 87% Arctic wolf. Clifton's family found her on a trip to the mountains, and brought her home. Clifton refers to her as "his sister and his equal."[1]
Clifton runs a YouTube video blog under the name "TheoreticalBullshit," in which he talks about religion and philosophy.[1]

In November 2007, Clifton returned to General Hospital along with Wally Kurth, who plays Ned Ashton, for the funeral of Emily Quartermaine, played by Natalia Livingston. He also returned that following December for the funeral of Georgie Jones, played by Lindze Letherman.
Return to Daytime
Edit
In Late 2008, ABC announced that Clifton would be joining the cast of One Life to Live in the role of high school teacher Schuyler Joplin. His first airdate is January 9, 2009.[2]
Filmography
Edit
↑ 1.0 1.1 Soapography, aired June 2007, "Michelle Stafford and Scott Clifton"
↑ Error on call to Template:cite book: Parameter title must be specified pp. 4-5 (January 13, 2009 (Vol. 34, No. 02)).
External links
Edit
Community content is available under
CC-BY-SA
unless otherwise noted.