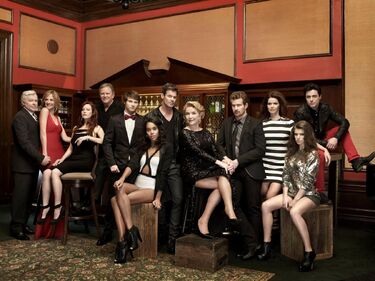 The online reboot of One Life to Live started airing episodes beginning on April 29, 2013.
ABC licensed the series to Prospect Park and Prospect Park attempted in 2011-2012 to revive the longtime running series.  The first attempt failed, but a second attempt commenced and was a success.
On January 22, 2013, Prospect Park released a full cast of the reboot of One Life to Live who signed on, which include Melissa Archer (Natalie Buchanan), Kassie DePaiva (Blair Cramer), Josh Kelly (Cutter Wentworth), Florencia Lozano (Tea Delgado), Kelley Missal (Danielle Manning), Erika Slezak (Victoria Lord), Hillary B. Smith (Nora Buchanan), Robin Strasser (Dorian Lord), Andrew Trischitta (Jack Manning), Jerry verDorn (Clint Buchanan), Tuc Watkins (David Vickers) and Robert S. Woods (Bo Buchanan). Recurring actors who have signed on are Sean Ringgold (Shaun Evans), Shenaz Treasury (Rama Patel), and Nick Choksi (Vimal Patel).
Production of One Life to Live will begin on February 25, 2013 with taping of new episodes to begin on Monday, March 18, 2013. The series is slated to air in April 29, 2013 at 12PM Eastern One Life to Live will be 30 minute web series taped in Stamford Connecticut. It will be available on Hulu and Hulu Plus as well as various Itunes applications including iPhone, iPad and iPod Touch.
Community content is available under
CC-BY-SA
unless otherwise noted.