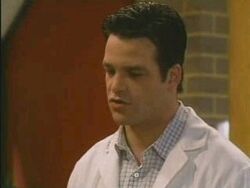 Nathaniel Marston (born July 9, 1975 – November 11, 2015) was an American actor.
Marston appeared as Eddie Silva on the CBS soap opera As the World Turns from 1998 to 2000. The role earned him a Soap Opera Digest Award nomination for "Outstanding Male Newcomer." He next portrayed Al Holden on the ABC soap opera One Life to Live from 2001 to 2003, and then played Dr. Michael McBain on the series from 2004 to 2007.
Previously, Marston was a regular on the prime time series Educating Matt Waters in 1996, and had a small role in the 2002 cable television movie Monday Night Mayhem. On November 25, 2008, Marston appeared on Law & Order: SVU in the role of Brent Latimer.
Marston's film work includes roles in the feature films The Craft (1996), Ordinary Sinner (2001) and Ciao America (2002), along with a leading role in the short film The Paw (2005). He also co-starred with Angelina Jolie in Love is All There Is (1996).
Marston worked out at the gym four or five times a week, and rode his bike everywhere in New York City. [1]
In the early hours of October 21, 2007, Marston was arrested following an altercation with three people in New York City, and was thought to be under the influence of narcotics.[2]
Death
[
]
On November 11, 2015, Marston died following complications from surgery after he was involved in a car accident near Reno, Nevada, that left him in critical condition on October 30, 2015. He was not wearing a seatbelt when his pickup truck flipped several times throwing him from the truck. He was 40 years old.