Natalie Buchanan
Melissa Archer as Natalie Buchanan
One Life to Live
Portrayed by
Melissa Archer
Current status
Former; Regular
Duration
2001–12, 2013
First appearance
July 16, 2001
Created by
Lorraine Broderick
Christopher Whitesell
Introduced by
Gary Tomlin
Profile
Family
Lord
Buchanan
Nickname(s)
Natty, Nat
Alias(es)
Natalie Balsom (adoptive name)
Occupation
Forensics Technician for the Llanview Police Department
Board member Buchanan Enterprises
Residence
Banks Apartment
Llanview, Pennsylvania
Natalie Buchanan Banks (formerly Balsom, Laurence, and Vega) is a fictional character from the ABC soap opera One Life to Live played by Melissa Archer. Natalie first appeared onscreen on July 16, 2001. Archer remained with the series until the original television finale episode aired January 13, 2012. Archer is slated to reprise the role when new daily episodes of OLTL are scheduled to begin airing on Hulu via The Online Network in April 2013.[1][2]
The character's original birth date is September 23, 1986, when fraternal twin Jessica is born in that day's episode on-screen; her birth year was later revised to 1978. Natalie also has an off-screen storyline on sister soap General Hospital.
Casting and reception
[
]
Archer originally auditioned for the role of Jennifer Rappaport, which Jessica Morris went on to secure. Archer then auditioned for the role of Natalie. On the day of her audition, Archer over-slept and turned up late. The casting department failed to notice this due to the amount of people auditioning.[3]
In April 2010, a reporter for Soapnet praised Archer's portrayal of Natalie. They said she made a "brilliant scene" in which Natalie launches into a tirade of abuse aimed at Marty Saybrooke (Susan Haskell), following her interference with her romantic relationship with John McBain (Michael Easton). The reporter empathised with Natalie because people often say "awful" things they will regret; but in their opinion, "Melissa brought it home".[4]
Storylines
[
]
2001–06

[

]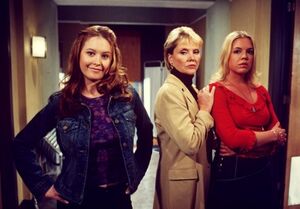 Natalie Balsom appears in Llanview on July 16, 2001,[5] immediately befriending Jessica Buchanan[6] and ingratiating herself to the Lord and Buchanan families. She later makes the startling claim she is in fact the biological daughter of Jessica's parents Clint Buchanan and Victoria Lord Davidson, which is confirmed by a DNA test. At first it is believed when Allison Perkins had kidnapped the Buchanan baby in 1986, another child had been returned and had grown up to be Jessica. Jessica begins a tenuous relationship with Natalie's wild adoptive mother Roxy Balsom, whom Jessica believed to be her own biological mother, and with Roxy's son who Roxy thinks is her biological son but is not Rex.
Natalie's accomplice and lover Seth Anderson — an old friend of Cristian Vega's from Angel Square[7] who had crossed paths with Jessica in their youth[8] — had arrived in Llanview before Natalie in May 2001[7] with the task of getting close to Jessica and thus facilitating Natalie's own insinuation into the family. But Seth falls for Jessica, and is conflicted as Natalie's scheme erupts. Just as the new-found sisters begin to call a truce, Natalie discovers Seth and Jessica are seeing each other, and she and Jessica are at odds again.
A DNA test on Jessica later proves she is also Viki's daughter. The real story comes out. Viki's enemy Mitch Laurence had secretly raped a drugged Viki around the same time she had conceived a child with Clint. Viki had unknowingly become pregnant with fraternal twins, one fathered by Clint (Natalie) and the other fathered by Mitch (Jessica). Dr. Walter Balsom, who had been one of religious leader Mitch's disciples, had taken Mitch's daughter during delivery. Viki had never known she had more than one child. Mitch, however, had wanted his daughter to grow up loved by Viki in the lap of luxury, and had sent Allison to kidnap Clint's child. They had replaced her with Mitch's daughter (who would become Jessica), and had given Clint's daughter (who would become Natalie) to Dr. Balsom and his wife Roxy.
After settling in town, Natalie meets Jessica's ex-boyfriend Cristian Vega. Viki's alternate personality, Niki Smith, returns in 2002 and pushes Viki's husband,Ben Davidson, out of a window. He is left in a coma. Niki makes sure Natalie takes the blame. Cristian is the only person to believe Natalie's protestations of innocence. He takes it upon himself to find the real culprit. Cristian discovers Niki has returned. When Natalie is cleared, they begin a relationship. She and Cristian marry in 2003.
Later that year, FBI agent John McBain arrives in Llanview. Cristian becomes involved in one of John's investigations and is soon kidnapped and later presumed dead. Despite his guilt over Cristian's death, John gets close to Natalie. They ultimately pursue a relationship. Cristian returns in 2004 with no memories, and is believed to be an impostor. He kills mobster Tico Santi and his memories return. He makes John swear not to reveal his true identity to spare his family from watching him go to prison. In 2005, attorney Evangeline Williamson appeals his conviction — proving he had been brainwashed into killing Tico. Cristian is released. He reveals himself to his overjoyed mother, Carlotta. Furious over the deception, Natalie ends her relationship with John and asks Cristian for a divorce. Over the course of 2006, however, Natalie reunites with John after working with him to prove her uncle Todd Manning innocent of the "murder" of Margaret Cochran, and helping him finger Spencer Truman as the man who killed John's father.
2007–2008
[
]
Template:Overly detailed
Natalie takes a job as receptionist for the Llanview Police Department, and soon shows an interest in the forensics program. Working closely with John, her relationship with him deepens. Natalie begins to hope for marriage. After a horrifying car accident in which John is badly burned and thought dead for weeks, Natalie's bond with John begins to fray. Thinking she is protecting John, Natalie tampers with evidence at the crime scene of Spencer Truman's murder. When the truth comes out, she is dismissed from the forensics program. Her relationship with John disintegrates as well. They ultimately part as friends, with John admitting he should have treated her better. Moving forward with her life, Natalie ventures into the family business Buchanan Enterprises.
The mysterious Jared Banks comes to town in 2007 with an interest in the Buchanan family. Natalie despised Jared. It is soon revealed he is seeking revenge against Jessica for her alter "Tess'" part in sending him to prison. Blackmailing Jessica and Natalie with the knowledge of Tess' crimes, Jared secures a job at BE alongside Natalie. Though Jared is a skilled executive who reveres the legacy of Natalie's late grandfather Asa Buchanan, his arrogant and abrasive personality causes him to butt heads with Natalie constantly. Jared's manipulation of her family fuels Natalie's animosity. The two cannot fight their mutual attraction. Irritated when Jared takes her cousin Sarah out on a date and flaunts himself in front of her, Natalie retaliates by staging a tryst with longtime Buchanan ranch hand Chuck Wilson III in Texas while the family is there for the reading of Asa's will. Jared and Natalie's sparring comes to a head when they admit their feelings for each other by the campfire and fall into a passionate embrace. That same night, however, Jared stumbles upon the opportunity to pose as Asa's long-lost son.
Having idolized Asa since childhood, Jared cannot resist, choosing fortune and ambition over love. Now "related" as uncle and niece, Jared and Natalie struggle to distance themselves from each other. As his feelings deepen, Jared is tempted to drop the ruse. At the Go Red Ball on Valentine's Day, Jared confesses to Natalie he still has major feelings for her. She tells him it can never happen because he is her uncle. Jared also saves Jessica's life at the Ball, and is almost shot and killed, but the bullet only grazes him. Jared almost confesses the truth to everyone at the Ball, but stops when Clint and Bo begin to really treat him like their brother and a Buchanan. Jared decides not to tell anyone yet.
March 2008 - May 2009
[
]
In March 2008[9] Jared reveals the truth to Natalie, who decides to keep his secret to protect the Buchanans from the real heir, greedy con artist David Vickers. Though at first disgusted with Jared for this plot against her family, Natalie still battles her attraction. When Nigel asks Jared why he decided to tell Natalie, he admits he's fallen in love with her. Natalie and Jared begin flirting with each other again, although Natalie resists taking it any further.
In May 2008, Jared tricks Natalie into going to Texas with him, where he tells her he loves her. At first she runs away and denies her feelings, but she ends up telling him she loves him too. They make love for the first time. Jared also tells Natalie the whole truth about his father. They try to figure out how to tell the family and be together in Llanview. Once back in Llanview, they dodge a blackmail attempt from David Vickers, who has found out Jared is not a Buchanan. Jared and Natalie also manage to sneak around and steal moments together.
Dorian Lord publicly reveals Jared's true identity, portraying the Buchanan Enterprises board as complicit in the scheme and allowing her to take over the company. His new venture with BE now dissolved, Jessica's husband Nash Brennan blames Jared and Natalie for the loss of Nash's vineyard. The argument gets physical. Jared accidentally shoves Nash over a railing. He falls through a skylight to the floor below, and dies soon after. The trauma causes Jessica's alternate personality "Tess" to reemerge. After some failed attempts to kill Natalie and Jared, Tess locks them in a secret room below Llanfair, ultimately trying to kill them with a bomb. They are rescued. Jessica seeks psychological treatment, while Jared and Natalie care for her daughters. Natalie is furious to learn an angry Jessica had "let" Tess emerge to exact the revenge she could not, and gives Jessica an icy homecoming from the sanitarium.
After the sisters repair their relationship, Natalie's suspicions about the night of Chloe's birth arise. Natalie begins investigating, and along with Jared, learns Jessica's baby was stillborn, leading to a second alter, Bess, to switch Jessica's dead baby with Starr Manning's healthy one, born the same night. After Kyle Lewis blackmails the couple about the baby switch, Natalie and Jared come clean with their family.
Natalie and Jared marry in a private ceremony on May 13, 2009.
November 2009 - April 2010
[
]
In November an old inmate of Jared is killed. All fingers point to Jared. When Natalie begs John to look the other way, he refuses. Mitch Laurence returns from the dead, and kidnaps Jared. Natalie, Jessica and Rex go to Napa Valley to find Jared. Rex gets a call from his aunt telling him she is dying. She only has a few days to live. She has something to tell him. He says he can't leave Natalie and hangs up. Natalie tells him to go. She will call the cops. They will help. She pretends to call them so he will leave. Jessica and Natalie soon realize Mitch is alive, after Jessica finds Nash's body. John and Brody show up to get Jessica and Natalie. Mitch pulls out a gun. John orders him to put it down. When he is about to drop it, Mitch shoots Jared in the chest. Jared is rushed to Napa General Hospital, where he dies of an embolism in his heart. Natalie is devastated and demands revenge on Mitch. She also blames John for what happened because he made her doubt Jared. Jared knew it. During Jared's funeral, Mitch pops out of Jared's coffin and plays mind games with Natalie and everyone else.
Bo and John arrest Mitch and brought him to LPD. John threatens he will kill him. Natalie finds the present Jared had been going to give her - a baby name book since they were going to start trying to have children - and a letter that tells her he had also been planning a New Year's Eve wedding for them, since they never got to have one with their friends and family, and a honeymoon in Oahu. Natalie gets angry at the fact they never got to have any of this because of Mitch. Natalie comes into John's office. Mitch tells her John threatened him. John turns his back. Natalie tells him John has a lot to lose, but she has already lost everything. She stabs Mitch with a letter-opener. Natalie continues to see Jared sometimes as a ghost or hallucination. He is with her when she takes a pregnancy test right before Christmas in the hopes maybe her birth control malfunctioned and she is pregnant with Jared's child. The test is negative. At this time, Natalie is still grieving. John is helping her cover the fact she is the one who stabbed Mitch.

In February 2010 Natalie's feelings for John deepen after they are trapped in a cabin together. Marty finds them and lashes out at John and Natalie. John denies having feelings for Natalie to Marty. He later admits to Natalie he still felt something for her. In March 2010, John and Natalie decide to keep their distance. John wakes from a dream where he finds Natalie in his bed. They kiss passionately. John tells Marty he is going to work, but instead arrives at Natalie's doorstep. John kisses Natalie. Natalie tells John he needs to make a decision. Before he can, he learns from Natalie. Marty is pregnant. John is not thrilled, but tells Marty he wants to be there for her and the baby. John and Natalie share a drink on St. Patrick's Day. The star crossed lovers share stolen glances as John dances with Marty.

In April 2010, Marty is pregnant with John's child, and Natalie and John are developing feelings for each other. Later, Natalie has an argument with Marty at the coffee store. She informs Marty there was more than just that one kiss in the cabin. Marty humiliated, returns to her office at the hospital. Later on while leaving her office at the hospital, Marty is then pushed down a flight of stairs and miscarries. Marty believes Natalie is the one who pushed her down the stairs along with her uncle Todd Manning who had raped Marty several years before. Natalie is devastated when John asks her if she pushed Marty. Natalie begins to lean on Brody as a friend. Marty is disappointed when John refuses to arrest Natalie without evidence.
May 2010 - December 2010
[
]
On May 21, 2010, Natalie who is developing feelings for John again begins to drink again and becomes drunk and goes to Brody's apartment where the two have a one night stand due to both of them being drunk. She then decides to leave for London to visit her brother Cord. However as she arrives at the gates at the airport she runs into John who tells her he too is developing feelings for her again and she decides to stay in Llanview. Natalie and John begin dating again. John admitts he was with Marty because she was pregnant. Jessica regains her memory back after Mitch kidnapped her and is unaware about Natalie and Brody's one night stand. Soon after, Natalie rejoins the forensics program. She and agrees to Brody not to tell anyone especially Jessica about their one night stand.
Natalie is revealed to be pregnant with either Brody or John's child and is shocked by this. Jessica soon finds out she is pregnant as well with either Brody or Ford`s child after Jessica and Ford "almost" had sex as well while she still had memory loss. After the doctor confirms the pregnancy, Natalie and Jessica avoid telling each other about their pregnancies. Natalie leaves the hospital and goes to Rodi's. She talks to Brody, but doesn't tell him about the pregnancy. Later she confides in Gigi Morasco. Gigi correctly guesses Natalie is pregnant. Natalie tells Gigi she is not sure who the father is. Natalie learns Jessica is pregnant right before she was about to reveal the news to John. Natalie avoids saying anything while everyone celebrates. Natalie considers terminating her pregnancy.[10] Natalie goes to the Llanview Family Planning Clinic to have an abortion, but in the end she decides against it. Natalie tells John of her pregnancy, but does not tell him he may not be the father.
Natalie gets an amniocentesis on the same day as Jessica to determine the paternity of her baby. On the day of the results, Clint sends his assistant to make sure Brody is the father of Jessica's baby. He instructs him to change the results if this is not the case. Unaware Natalie had a test done as well, Clint only tells his assistant to change his "daughters" results. He never specifies which daughter. In the clip showing the assistant changing results, the mouse on the computer is pointing to Natalie Banks not Jessica Buchanan. Therefore, it is assumed the assistant changed the wrong results, which means John McBain is the father of Natalie's baby. Natalie believes Brody is the father of her baby, but chooses not to tell him because Jessica is so elated he is the father of her baby. She does not want to ruin their happiness.
It is revealed a day after the tests Marty has obtained a copy of the changed results. Rex also obtained a copy after searching Marty's apartment.
December 2010 - June 2011
[
]
On December 10, 2010 John gets down on one knee and proposes to Natalie. A shell shocked Natalie excuses herself. She calls Rex to discuss on whether or not to accept considering the circumstances. Marty knows of the paternity results. Rex tells her to take a chance, urging Natalie to say yes to John's proposal despite everything. A nervous Natalie tells John to keep the engagement quiet and not tell the family just yet. Natalie wants to go to Marty and make sure she will keep her big fat psychotic mouth shut.
Marty vows to Natalie she will not tell John of the paternity results shortly after hearing John proposed. Natalie thanks Marty. From then on, sees it safe to tell everyone of the engagement on Christmas. Yet little does Natalie know. Marty still plans to tell John of the paternity results. Just not directly, but by her sister Jessica at a private wedding ceremony between both Natalie and John. On the night of the wedding, Marty interrupts the ceremony. Jessica is rushed to the hospital. Marty and Natalie get into a heated argument. Marty accidentally hits her head while arguing with Natalie. Natalie takes Marty to the Buchanan lodge holding her captive with a shotgun trying to save her relationship with John and stop Marty from telling Jessica her secret by keeping her at the lodge so she can finally go tell John of the results herself.
Natalie's water breaks before she can leave the lodge. Marty turns the tables on her, turning a deaf ear to Natalie's pleas and departing, leaving the laboring Natalie alone with no phone and no way to get help.
Fortunately, Marty has a pang of conscience and returns to help Natalie give birth. John tracks her and Marty to the lodge. He walks in moments after Natalie has given birth to a baby boy. When Marty holds Natalie's baby, she thinks it is her and John's baby boy. John calls the paramedics to take Natalie and the baby to the hospital. Marty is committed and eventually sedated after bursting in on Natalie, John, and the baby demanding the baby is her and John's. Natalie is trying to steal it. When John asks Natalie what happened at the lodge, she lies to John saying Marty took her to the lodge and held her captive. John leaves the room. Natalie wonders if she should tell John the truth or not. Natalie and John decide to name the child Asa McBain, but was later changed to Liam Asa McBain (due to Jessica and Brody wanting to name their baby Asa), and ask Rex and Gigi to be his Godparents. Jessica and Brody plan to get married. They convince Natalie and John to have a double wedding. On their wedding day, Vimal reveals he changed Jessica's paternity test and not Natalie's. Natalie later admits to John he's not Liam's father, Brody is. Natalie and John have a run in with Jessica and Brody right after they both spill to their fiance's about their night together. Natalie reveals to a shocked Brody and Jessica that Liam's father is Brody. Jessica tears the room apart. Natalie tells Jess she is her sister. She loves her. Jessica tells Natalie she will never be her sister, leaving Natalie emotionally scarred.
Later that day, Tess returns. Natalie finds John in a compromising position with Kelly Cramer. He tells her he slept with Kelly. Natalie yells at Kelly, and tells John she'll never give up on him. After getting some advice from Echo DiSavoy, John goes to Llanfair. At first, Natalie thinks John is there for her. He's just there to see Liam. The two bond over the baby boy. John feels out of place holding him. He runs into Kelly at Llanfair, who is crying after a run in with Joey. Natalie sees John and Kelly hugging. She and Joey lay into them. Joey punches John. John goes to Rodi's and finds out Gigi knew about Brody and Natalie. He fires her. Natalie finds out, and rushes to Rodi's to confront John. She walks in on John and Kelly making love. She lashes out at them. She and Brody rush Liam to the hospital after he gets a rash. It turns out to be a minor thing. John jealously walks in on Brody and Natalie hugging. She and Brody bond over Liam, and they wake up next to each other and extremely close to each other. Natalie then goes back to work as the forensics tech, and lashes out at John. She puts boundaries between the two. They agree on only being professional. Kelly conveniently comes to the station. Natalie is furious, but walks away. Cristian Vega tells her Marty is still carrying around her paternity test results. On April 20, 2011, Natalie returns to Llanfair after going to see Ford and sees Tess with Viki, but quickly realizes Viki's alternate personality, Niki Smith, has come out. Tess tells Natalie it is not Niki Smith, but Viki pretending to be her to scare away Tess. Natalie believes her. Soon after, Natalie finds out Clint had a heart attack and rushes to be with him. While at the hospital, she runs into Marty and confronts her about still carrying her DNA results. She snatches them and rips them up without reading them. Marty laughs in her face.
While at the hospital, Joey and Natalie realize Nikki really has re-emerged and run over to the custody hearing to confront her. At the custody hearing, Viki tries to reemerge and another of her alternate personalities, Jean Randolph, comes out. She faints. Viki wakes up. The judge then makes her decision about Ryder's custody hearing and finds Viki an unfit parent. The child ia in foster care. Natalie offers to take him. The judge refuses because she lives with Viki. Aubrey and Joey step in. The judge grants them temporary custody. Natalie asks Rex and Gigi if they can watch Liam. She discovers Gigi took Shane's therapy session recording so she and Rex could listen and see if there was anything they should know about Shane. Both Rex and Gigi feel they are violating Shane's privacy, so Natalie offers to listen to the tape so they wouldn't have to, and promises to tell them anything they absolutely need to know and nothing else. She starts the recording and realizes it's Marty's session and hears Marty talk about how she broke John and Natalie up. Rex and Gigi come in and take it from Natalie after realizing it's not right to listen to their son's private session. Natalie tells them it's really Marty's session. They tell her not to listen and say they're going to take it back to the therapist's office. After the tape is returned, Natalie goes into Dr. Buhari's office while her assistant is on break. She hears Marty talking to the doctor. She takes the session tape, this time with the clear intent on listening to it. The tape reveals Marty altered baby Liam's paternity results to make Brody the father, when in reality the biological father is John. Natalie decides to tell John the truth. She and Liam head to John's house where unbeknown to her a deranged Marty is waiting, who moments earlier brutally stabbed Kelly Cramer. Natalie sees a note Marty left for John to meet on the roof, where she comes face to face with Marty. A fight ensues. Marty is left clinging to the side of the roof. After much hesitation, Natalie helps Marty, who thanks her by pushing her off the roof to the ground below, where she is found by John.
Jessica slams the door of Natalie's bedroom. She makes it clear she's not Tess and demands, "What the hell are you doing in bed with my fiancé?" Jessica lashes out. They betrayed her again! "How could you do this to me?" she asks and grabs her head. "Ford was right." Jessica vows not to hide anymore. She plans to stick around to make them pay. Natalie tries to explain why they gave up hope on her and John. Brody admits he couldn't take it anymore and moved on. "I was trapped," Jessica snaps. "The hell you were," Brody replies and reminds her Tess is the mean, hateful part of her. Natalie gives them some time, as Brody continues to rant about all of the hell she's put him through. She used his dead, best friend to hurt him, and left her kids, when they all needed her. "You and Natalie can go straight to hell," Jessica replies and storms off.
Later, Jessica is passing Natalie in the hallway. They lash out at each other. Natalie says Jessica hid behind Tess. It is her fault. Jessica says she would never betray her sister. She will pay her back on her own, not as Tess. Natalie asks if that is a threat. Jessica simply smirks and says not to worry. It will happen when she least expects it. Jessica walks away, saying coyly, "I wonder what John McBain is up to?". Natalie ponders if there is possibly something between John and Jessica.
Later, Natalie talks to Jessica. She and Brody are going to have a life together. Outraged and hurt, Jessica yells at Natalie which makes Natalie say the thing she liked about Tess is she took responsibility for her actions and had no problem showing her dislike for her. Still angry Jessica punches Natalie. Viki witnesses the altercation. Bree saw and heard the fight. Jessica then leaves to talk to Bree. Natalie tells Viki every single time she tries to talk to her, she gets mad.
Jessica and Natalie have another fight. Jessica suggests she and Brody live together because she doesn't want to see either of them. Brody then agrees, which leaves Jessica and Natalie shocked. Brody has to leave to go to work, leaving Jessica and Natalie in the garden fighting. When the two walk angrily out the door, Ford watches and causes to Jessica crying on his shoulder.
June 2011
[
]
On June 28, 2011 Natalie and Jessica bumped into each other in Angel Square. Before Natalie was able to say anything, Jessica acknowledged she'd heard the news about Natalie's engagement to Brody. Sarcastically, Jessica asked to see Natalie's ring. She grabbed Natalie's hand. Jessica thought the ring was a "pretty little diamond". She suggested because of Natalie's hand size, the ring should have been larger. Jessica also thought it would have been a good idea for Natalie to just use Jessica's ring instead. Natalie was apologetic and stated she just wanted to make things right between the two of them. Jessica wondered how things could be nice and okay after Natalie had stolen Jessica's fiancé. Natalie disagreed. She began to explain how Brody had waited for Jessica for months. Jessica saw things differently. She believed Natalie had accepted Brody as a consolation prize, after John had rejected her twice. Jessica figured Natalie would leave Brody in a second, if John were to change his mind. Natalie didn't think that was a fair assessment. She was angry. She, Brody and Liam were a family. Jessica wondered how it would be around holiday tables. She stated the family was not happy with Natalie's choice.
Natalie insisted Viki was happy. Jessica felt Viki hadn't had a choice. Jessica accused Natalie of successfully destroying the family just as she'd set out to do when she'd first arrived in Llanview. Natalie couldn't believe Jessica had held onto that thought after so many years. Natalie accused Jessica of walking all over her. Natalie would no longer stand for it. Jessica called her "trailer trash" who had slept with her sister's fiancé. Natalie pointed out at least she hadn't hidden behind her mental illness. She accused Jessica of enjoying being Tess in order to torture Brody. Jessica had been able to order him around and be a bitch, Natalie added. The argument continued to escalate. Jessica called Natalie trash again. She shouted she wished they'd never found out Natalie had really been a Buchanan. They had all been happy before Natalie's arrival. Natalie reminded Jessica she was actually more family than Jessica was. Natalie's real father was Clint, while Jessica's father was Mitch Laurence. Jessica was appalled. She snapped Clint was her father in every way. She had always been Clint's daughter. "Your father is a deranged psycho killer that killed my husband when you didn't finish the job yourself," Natalie accused. Jessica retorted she hadn't been responsible for the fact Mitch had killed lots of people. Natalie added that she had forgiven Jessica for her wrongs, but Jessica had been unable to return the favor. "Brody is lucky to be rid of you," Natalie growled. "You are Mitch Laurence's psycho daughter and always will be," she concluded. Jessica slugged Natalie in the face with all of the strength she could muster. Natalie grabbed her head and then slapped Jessica as hard as she could. The growing argument had turned physical. The girls grabbed and pulled at each other until they fell to the ground. Brody left Clint and happened to find Jessica and Natalie fighting in Angel Square. He pulled the young women apart, and picked Natalie up. He carried her away from the scene as Jessica screamed after them. "I hate you. I'm gonna hate you til the day that you die," she yelled.
On July 1, 2011, Natalie finds John and tells him she has moved on with Brody. At the police station, Brody is shocked to find out Liam is NOT his son. Marty switched baby Liam's paternity results. Meanwhile, due to Natalie's fall Marty caused, Natalie has short term memory loss. It leaves Natalie unaware John is really Liam's father. However, Brody steals the note Vimal wrote to John revealing the real father of Liam is John, not Brody. He also erased the tape inside recorder Natalie took from Dr. Burhari's office admitting Marty altered the DNA test results. Brody doesn't want to ruin his relationship with Natalie, so Brody knows he's in trouble when everyone finds out the truth about Liam. It was revealed as of July 26, 2011: Victor Jr., Marty, Jack, Vimal, Jessica and Brody are the only people who know the truth about Liam.
September 2011 - December 2011
[
]
On the 23rd September 2011, Brody proposed to Natalie. She accepts. It is revealed John is still in love with her, but he hasn't told her yet.
On November 14, Natalie and Brody are set to be married when she gets proof John is Liam's father. Brody knew for months and didn't tell her. Of course she's furious and leaves him at the altar to go tell John and stop him from leaving Llanview. She gets there in time and tells John that Liam is his son. He doesn't believe her at first, but then after thinking about it has realizes it's true. When they leave the airport to go see Liam, they find a horrifying sight: Nigel on the floor unconscious and Liam not in his crib. When Nigel comes to, he says Brody knocked him out and kidnapped Liam. They finally catch up to Brody and Liam in Niles, Michigan (where Brody grew up). They get to the house. Brody pulls a gun them. They get him to drop the weapon and give Liam to John. On January 3, 2012, Natalie is taken hostage by Mitch Laurence after he escapes from prison. When Mitch demands to see Jessica in exchange for Natalie, John reluctantly takes Jessica to rescue Natalie.
January 2012 - ABC's finale of OLTL
[
]
On January 6, Ford attacks Mitch and Mitch's gun fires. It hits the chandelier. Ford is crushed. John says he's going to call an ambulance. Mitch says he can but Natalie stays. Afterwords, Jessica and Ford are taken to the hospital. Mitch refuses to let Natalie go. John then shoots Mitch and kisses Natalie. Meanwhile, Allison reveals both of the Buchanan twins are biologically Clint's. Allison altered the paternity results and lied to Mitch Laurence that Jessica was his. Clint refuses to believe this and says to Viki, "Do you really believe this lunatic?" In revenge, Allison shoots Viki and flees. Clint reaches for the phone, but collapses beside Viki. They are found by John and Natalie and taken to the hospittal. Viki and Clint both survive.
On the 11th January, 2012 John is surprised to find Liam and Natalie at his place. He picks Liam up, as Natalie explains how Jessica said they shouldn't wait to have their talk. "And she'd be right," John agrees. He instructs Natalie to turn their phones off then puts Liam down for a nap. When he returns, Natalie lashes out at John for not admitting he loved her. She needs to know John will fight for her. He wonders why Natalie never let on she knew. She had lied to him and didn't trust John enough to tell him the truth. Can he forgive her? John admits Natalie hurt him and knows he hurt her too. Can she forgive him? Natalie's more than happy to. "Then bring those lips here," John orders. They kiss. After they make love, John says, "Natalie, I love you." She returns the long awaited sentiment. Through a new DNA test conducted by Vimal ordered by Clint and Viki, Jessica is confirmed to be Clint's child, not Mitch's.
Post One Life to Life

[

]
2012-2013
[
]
When John McBain crossed over to General Hospital in March 2012, Natalie and Liam stayed behind in Llanview. In November 2012, it was hinted that Natalie and Liam might appear onscreen in Port Charles sometime in 2013. Currently, Natalie's photo has shown several times to viewers, shown speaking to John on the phone, and has an off-screen storyline in Llanview, suggesting she might show up eventually.
In August 2012, Natalie receives an envelope from Todd Manning in Port Charles, New York, which contained a picture of John kissing Sam on the Fourth of July. John arrives at his and Natalie's home and finds that Natalie is not there. Clint and Natalie's driver arrives at the door, leaving John a note from Natalie, saying, "I hope it was worth it because now you have all the time in the world to think about it." John calls Natalie and tells her that she can't take Liam out of the country, he searches for his passport and finds that Natalie has taken it, preventing him from following her to London, England. Natalie then hangs up and an enraged John throws the phone at the wall. Weeks later, John finds out that Natalie has issued a restraining order against him to keep him away from Liam. John calls Natalie and promises her that he will see Liam.
In October 2012, Natalie sends John a letter, stating that she found someone else and if he really loves her and Liam, he will stay away and move on with his life.
However, due to the OLTL reboot, Archer will not appear on GH and is slated to appear in the first episodes of the new reboot of OLTL
OLTL 2.0
[
]
Season One
[
]
Cutter Wentworth
[
]
Natalie appears in the premiere episode on April 29, 2013 where she tells her young son Liam that she is going to a party before she sends him to bed, and she talks briefly to the babysitter before she leaves her apartment.  She then heads to the opening of Blair Cramer's new nightclub Shelter and witnesses a couple making out. While she's there, she meets Cutter Wentworth, and is unhappy to meet him because of his past as a con artist. Cutter tells her to "let bygones be bygones", and that he's a changed man now working as a club promoter at Blair's club. Natalie then shares a seductive dance together until VIP Hostess Rama Patel interrupts them by telling Cutter to tend to an emergency in the VIP room. Cutter tells Natalie that they will pick up where they left off later. Natalie then leaves the club to go back to her apartment to relieve the babysitter of her duties before she lies on her couch to go to sleep. On Monday May 6, Nora finds Natalie asleep on her desk in her office at the police department where she wakes her up. Natalie tells Nora that she's still depressed about John cheating on her with Sam in Port Charles, and that she feels undesirable and needs a makeover. Nora suggests that she goes shopping with her to cheer her up, and Natalie accepts her offer. After Nora leaves, her father Clint stops by to tell her that she needs to move back to Llanfair with her son, but Natalie reassures her father that she's fine living with her son at her apartment. On May 14, Natalie returns to Shelter and meets Cutter again where he introduces her to his new bartender Nikki, her serves them a drink she named after Cutter. Both Cutter and Natalie both takes a sip of the drink, and they both dislike the taste. Rama then makes a joke about Cutter in bed, and he tells her that he leaves the ladies wanting more, but Natalie is put off by his reputation with the ladies. Natalie then has a brief talk with Blair about their children.
On May 15, Natalie helps Bo's investigation on who poisoned Todd after he claimed that his brother Victor Jr. (who returned to town a year after being presumed dead, but was actually kidnapped by Allison and had his death faked!) tried to kill him by poisoning him. At first Natalie found no traces of any poisonous substances after she tested the liquor bottle, but then she called Bo to tell her that she tested the bottle again to find that there was arsenic found in the bottle, confirming Todd's suspicions. On May 16, Natalie tells Bo that a dead male body was recovered from the river outside that had a tattoo on its wrist. Tea comes in and said that Victor Jr. had a similar tattoo that was on his wrist too. Bo thinks that there might be a connection between Victor Jr. and the corpse and Victor Jr. Tea gives Natalie a cloth that Victor Jr. used from her purse to test the DNA sample from it and compare it to the dead body. Natalie later stops by Tea's house to tell her that the DNA results came back and that Victor's Jr. DNA matched with the corpse, and that he was responsible for the guy's death.
On May 21, Natalie has a "girl's night out" with Destiny Evans, and Cutter treats them to free drinks. After Natalie and Destiny hit the dance floor, they both get another drink and Cutter flirts with Natalie. Rama tells Cutter he's needed in the VIP room, and Destiny thinks that she's hooking up with Cutter before she leaves the club to go to work at The Banner. Rama then warns Natalie about Cutter's womanizing ways, but Natalie tells her that she can handle herself with him. Cutter then comes back to Natalie and tells her that she saw her talk to Rama, but she said that she didn't listen to what she said about him. Natalie then tells Cutter that she has to leave to go back home to tend to her son. Cutter then tells Natalie that he has the day off sometimes, and they both make a date for Thursday. On May 23, Natalie sees Cutter at The Coffee Shop, and tells him that it's bad luck to see her before their date. Cutter then tells her that he forgot about it because he had to work on Thursday, and they both decided to postpone their date to another day. After Cutter buys Natalie a cup of coffee, Viki calls Natalie to invite her to dinner. Natalie then tells her mom that she's unsure if she wants to move on from John to go out on a date with another guy, but Viki reassures her that it's O.K. to date again and move on with her life. After her phone call ends with Viki, Natalie receives a message from John on her cell phone.
Moving On From John
[
]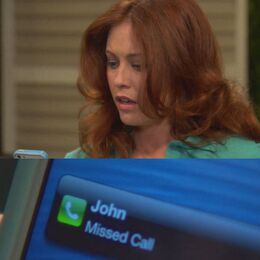 On May 28, Natalie comes over to Llanfair to tell her mom that about John's message to her, and that he said he wants to see their son Liam. Viki is shocked to hear that John's call, but Clint overhears their conversation, and interrupts them saying that he'll never hurt her or his grandson. After Clint leaves, Natalie tells Viki that John demanded to see her son, or he'll get his lawyer involved, but doesn't know what he's talking about since she would never stand in his way too keep him from seeing Liam, and that she's still in love with John. Viki tells Natalie to fight for John if she still wants him, and to give him a call to tell her about her feelings for him. Viki then tells Natalie to leave before Clint comes back to change her mind. Natalie comes back home to call John, but changes her mind to get dressed to go to Shelter where Cutter greets her at the door. On May 30, Cutter tells Nikki to get her a drink for looking pretty, and wants to prove to him that he still interested in her and is running a clean club after she thinks he's still up to his own schemes again and doing something illegal in the club. Cutter later dances with Natalie before he leaves her to tend to other duties, but Natalie doesn't want to dance alone, and he has the club's security officer Bruce Hunter to dance with her, who she also knows from work since Bruce works as a police officer during the day. Natalie then asks Bruce if Cutter hired him to work security or to "look the other way". Bruce tells him that he doesn't know what she's talking about before she glances at one of Cutter's other employees at the club Dean Trayger give one of the DJ's a stash of drugs from a distance. The power at the club then goes out, and Cutter and Bruce scramble to calm everyone down and give the patrons flashlights and to find out how the power went out. After Todd convinces Blair to sing at the club to boost the patrons morale, Cutter comes up to Natalie and surprises her with a passionate kiss.
On June 11, Natalie walks out of The Coffee Shop and bumps into a guy who serves her legal papers from John. Natalie becomes shocked and distraught by John's subpoena, and Tea comes up to her and tells her what's the matter. Natalie shows her the subpoena, and Tea explains that John is suing her because she doesn't want him to see Liam. Natalie doesn't know why he's suing her because he left him. Tea reassures Natalie that she will get to the bottom of the subpoena. Natalie then goes to Shelter and gets a call from Tea telling her that John got a restraining order from her and harshly written letter that she wrote to him telling him to stay away from her and Liam. Natalie is surprised by Tea's discovery, and tells Viki and Clint at Shelter what Tea told her, and said that she didn't file a restraining order against John and wrote him a "Dear John" letter to him. Viki and Clint then tell Natalie to call John about her latest discovery from Tea. Natalie then walks up to the bar where Cutter sees her and tells the bartender to give her a free drink. Cutter asks her if she's doing o.k. and Natalie tells her yes but she feels distracted. Cutter then tells her to call him if she gets "undistracted". Natalie waits for her call from John while Cutter looks over at her while he interviews two women for a job at the club from a distance.
On June 18, Natalie arrives at Llanfair to tell her parents that John's FBI supervisor called and told her that John was assigned to work on another FBI assigment. She also figured out that Clint was the one that put a restrainng order on John and wrote him the "Dear John" letter in her name. Natalie confronted Clint about this, and was angry that he kept John from seeing his son Liam. Clint explined to Natale that the reason why he filed the restraning order and wrote the letter to John was because he cheated on her with Sam. Natalie then told Clint that she could've worked things out with John and gotten past his affair with Sam Morgan if he would've gave them a second chance and not interferred in their relationhip. Natalie also tells Clint to stay out of her life before she leaves.
On June 20, Natalie has dinner with Destiny at her apartment, and confides in her about how Clint interferred in her relationship with John, and her feelings towards John. Destiny tells Natalie to move on with her life, and to not wait around for John for the rest of her life. Natalie then tells Destiny that she's interesed in Cutter now, and feels bad for never going out on their date. Destiny convnces Natalie to go out on a double date with her and Natalie's cousin Matthew Buchanan's friend and roommate Jeffrey Wright, and Natalie agrees to her idea about her plans.
On June 25, Natalie gave Bo the results of Briana Marland's (a college student and a prostitute who was one of the patrons at Shelter that was found dead in her hotel room at The Palace Hotel) autopsy saying that she died from heart failure due to a drug overdose. Bo told Natalie to compare Briana's drugs to Dani's drugs that she took on the night of Shelter's opening. Natalie later gave Bo the test results of both Briana and Dani's drugs, and confirmed that both of their drugs were tainted with poison, and Bo now considered this case a murder investigation.
On July 1, Natalie has some fun with Destiny by daring her to do something that she's never done before by encouraging her to get a tattoo. Later, Clint stops by Natalie's apartment to tell her that he's sorry that he interfered in her troubled relationship with John, and that he was trying to to do what was best for her daughter. Natalie accepts Clint's apology and forgives him for his actions.
On July 8, Natalie and Destiny welcomes Jeffrey to Natalie's apartment, and Cutter also arrives at her place, but is suprised to learn that it's actually a double date between him, Natalie, Destiny, and Jeffrey. Cutter is soon called away from his double date when Rama calls him to tend to an emergency at Shelter. Cutter later calls Natalie from the club and tells her that the emergency at the club was only a false alarm, and that he'll make it up to her by going out on another date with her alone and just between the two of them, and Natalie happily accepts his offer.
On July 15, Natalie attends an exercise class at a gym with Destiny, along with Tea, Dani, Jeffrey, Nikki, Rama, and Dean. Natalie also recognizes Dean from Shelter at the exercise class and Rama tells her he helps get rich patrons into the club, and Natalie then tells Rama that she thinks he's a drug dealer at the club. Natalie also gives Tea a bottle of water after she faints from a panic attack. Later, Natalie is surprised to find Cutter has arrived unannounced at her apartment since her place is a mess and she's a mess herself! Natalie closes the door on him until he welcomes him in her apartment after she cleans up the place and cleans herself up. They both share a pizza together and drink wine that Cutter brought over, and they also make love to each other for the first time on the floor in her apartment.
On July 22, Natalie visits her mother Viki at Llanfair and learns that her mother called off her engagement to Clint after he lied to her about secretly lending her five million dollars after she lost all of her money that she invested in The Pellegrino Fund. Natalie then leaves Llanfair to have drinks with Cutter at Shelter, where she tells him about growing up in a trailer park in Atlantic City, NJ with her adoptive mom Roxy before discovering she had a rich biological family in Llanview. Cutter told Natale that he could relate to her about the both of them growing up on the wrong side of the tracks. Natalie then tells Cutter that he doesn't want him to mess around with her by cheating on her with other women if they're going to be in a relationship with each other.
On July 29, Natalie received a call from Cutter telling her that he found her father Clint drunk outside of the club, and that he'll tell her more of the details when he comes over to her apartment. Cutter soon arrives at her apartment to tell Natalie that he found her father intoxicated outside of the club after he got into an altercation with Shelter's doorman Diego Padilla after he refused to let Clint in the club, and that he convinced Diego to not press any charges against Clint. Natalie wanted to leave to see her father, but Cutter reassurred her that he was doing alright now and is at his brother Bo's apartment. Natalie then told Cutter that she felt bad for her father because he had gotten drunk after Viki called of her engagement to him. Cutter then told Natalie that he knew how Clint felt because he had done some crazy things over a woman. Cutter then comforted Natalie by giving her a kiss. Cutter later confided in Natalie that he didn't like his job at Shelter because it didn't make him happy and that it wasn't so glamourous at times, even though Natalie was envious about his job at the club. Cutter told Natalie that he really only pretends to have a good time at the club in order to please the patrons and his employees, and that he rather have her quiet and stable life instead.
On August 5, After Cutter spent the night with Natalie, she gets a call from Bo that her fater Clint has been arrested and is a the police station waiting for her to pick her up. Natalie then kicks Cutter out of her apartment after thinking that Diego sued Clint for punching him out the previous night outside of Shelter. Natalie then comes over to the police station in Bo's office to pick up her father. Natalie tells Clint that she knows of Diego's lawsuit against him, but Clint informs her daughter that Diego didn't sue him, but it was Bo's idea to have him arrested and spend the night in jail before Natalie leaves the police station with her father.
On August 12, Natalie pays a visit to Viki's office at The Banner and saw the viral video of Clint punching out Diego outside of Shelter that was taken by a patron outiside the club. Viki told Natalie that she's thinking about posting the video online herself before the patron sells the video to The Sun. Natalie told her mother that what Clint did to Diego wasn't her fault, but Viki felt that she partly blames herself for Clint's behavior because she'd broken off their engagement. Natalie then told Viki that Clint was the one that should blame himself for his bad behavior. Natalie then left her mother's office to go to her father's office at Buchanan Enterprises when she saw Cutter storm out of his office. Natalie asked why Cutter was in his office and Clint explained that Cutter was up to his grifting ways again. Natalie then stood up for Cutter and explained that he was the one that persuaded Diego not to sue Clint. Clint then asked why Natalie was defending Cutter, and she told him that she was friends with him. Clint then urged Natalie to pick better friends andto stay away from Cutter. Clint then admitted to Natalie that he had a rough few days and that he was no longer drinking, and that he'll accept his award and to try to prevent the video from getting out, but Jeffrey then called Clint to tell him that the person who took the video refused payment from him for he video. Natalie then left Clint's office and went to Shelter to confront him about extorting money from Clint. Cutter then expained that he wasn't extorting money from him, and that he wanted Clint to pay Diego's medical bills because Diego had no insurance. Natalie told Cutter and Diego that she will talk to a lawyer herself so that she'll convince Clint to pay Diego's meical bills. Cutter then thanked Natalie for duing a huge favor for him and Diego before Natalie apologized for falsley accusing him of extorting money from her father. Natalie also told Cutter that she recently learned by listining to the radio in her car driving to the club that Clint was no longer receiving the award for being the Man of the Year because of his drunken altercation with Diego being caught on video by one of the club's patrons and going viral on the internet, and that someone else would be awarded at the gala instead. Natalie then made plans with Cutter to meet at Shelter again to attend the Man of the Year gala with him as her date that night before Natalie found Blair putting up a picture of her Uncle Bo being named the Man of the Year in place of her father before she was leaving the club to get dressed for the gala.
On August 19 (the first season finale of OLTL 2.0), Cutter and Natalie arrive at the gala at Shelter to see her Uncle Bo be awarded the Man of the Year. Natalie then came over to the bar to order martinis for her and Cutter from Nikki during the auction portion of the gala before she confessed to her that she and Cutter have been having sex with each other for months, and that he had no intention of ending their sexual relationship. Natalie then went back to her seat to the table that she shared with Cutter. Cutter then came over to Natalie to ask her where their drinks were before she told him that she didn't know, and that since the auction is almost over he could go give Nikki a "blow job" behind the bar. Cutter then told Natalie that it's not what it looks like with him and Nikki, and Natalie told him that she knew how she felt about him cheating on her, and that he was making it worse by lying to her about his relationship with Nikki. Cutter then told Natalie that Nikki was full of it, and he tried to explain to her that he wasn't cheating on her before Nikki spilled the martinis that she was serving them on Natalie's dress on purpose. Natalie then bolted with Rama to the bathroom to clean up her dress. Natalie then came out of the bathroom with Rama and was shocked to see her drunken and drugged father crashing Bo's award ceremony and being taken away to the hospital, and became angry at Bo to have her father strapped to a gurney and taken away to the hospital in front of a roomful of people. Natalie was also shocked to learn that Viki, Nora, and Bo wouldn't be there for Clint at the hospital so that they could give him some "tough love" due to his wild behavior, and that her father was going to be submitted in the psych ward at the hospital to undergo a psychriatic evaluation. Cutter then asked Natalie if she needed a ride to the hospital, but she declined his offer. Cutter then went after Natalie outside of the club to try to apologize to her before Natalie told Cutter that her father's health was more important than him and Nikki, and then she left to go to the hospital with her cousin Matthew and his girlfriend Michelle McCall. Natalie and Matthew then were told by a doctor at the hospital that Clint has been sedated for the night. After Natalie told Matthew and Michelle to go home for the night, Natalie insisted to the doctor that she needed to see her father, and the doctor told Natalie that he was strapped to his hospital bed while he took her to his room. Natalie then went inside Clint's room in the hospital, and was shocked and horrified to see Allison injecting a needle with a syringe into her father's arm while he's gasping for air!
Gallery
[
]
References
[
]