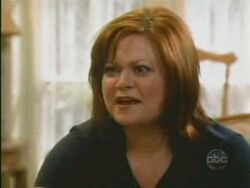 Kathy Brier (born March 10, 1975 on Staten Island in New York) is an American actress.
Brier has played the role of Marcie Walsh on ABC soap opera One Life to Live since 2002. In 2004 her performance earned here a nomination for a Daytime Emmy Award for "Outstanding Supporting Actress in a Drama Series". "One Life to Live" marks her first major television role.
From 2003 to 2004, she played the starring role of Tracy Turnblad in the Broadway production of "Hairspray." Previously she had been the understudy.
Brier began acting in the theatre, with regional credits that include Fanny Brice in "Funny Girl," Libby Tucker in "I Oughta Be in Pictures," Joy in "Cinderella", and Rizzo In "Grease." Her Off-Broadway credits include Ron Taylor and Mayor Maggie in "Bat Boy The Musical" at Union Square Theatre, "The Prince and the Pauper" at The Lamb's Theatre, "O'Casey Knock" at The John Houseman Theatre, and "Tango Ballad" at The Actor's Studio.
She is a graduate of Wagner College.