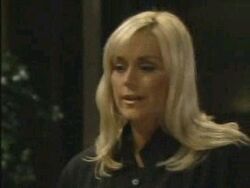 Catherine Hickland (born February 11, 1956 in Fort Lauderdale, Florida) is an actress best known for roles on soap operas broadcast in the United States. Hickland graduated from Fort Lauderdale High School in 1974.
She first performed on Texas as Dr. Courtney Marshall from 1980 to 1981. Since then, she has portrayed many well-known soap roles. Hickland played the role of Julie Clegg McCandless on Capitol from 1983 to 1987, as well as the dual role of Jenny Diamond from 1985 to 1986. She also played Tess Wilder on Loving (1993-1995) and The City (1995-1997). Since 1998, she has played Lindsay Rappaport on One Life to Live. In May 2005 she was bumped from contract to recurring status on One Life to Live, but curiously, as of late July 2006, she still appears in the show's opening credits. She has also had guest- starring roles on numerous TV series, from CHiPs to Law & Order.
For many years, the desire for her casting directors to keep her thin wreaked havoc on her physique, and caused her to gain much weight while in her numerous soap opera roles. She told all regarding her weight gain and how she has controlled her problem in a TV Guide soap column written by Michael Logan.
In 1987, she filled in for Katherine Kelly Lang as Brooke Logan on The Bold and the Beautiful while Lang was on maternity leave.
From March 24, 1984 to March 1, 1989 when they divorced, she was married to David Hasselhoff, who famously played a character named "Michael Knight" in the television series Knight Rider. In Knight Rider, she appeared in 3 episodes: White Bird (first aired on March 4, 1983), Let It Be Me (first aired on May 13, 1984), and The Scent of Roses (first aired on January 3, 1986). Even earlier, she married Richard Knowlton in 1978 only to divorce him the same year.
On June 27, 1992 Hickland was married to All My Children star Michael E. Knight. In January 2006 the couple announced they are getting a divorce after 14 years of marriage and will remain friends.
The couple were honored for their charitable work by the West End Intergenerational Residence in Manhattan in 1999.
Hickland has also appeared in Broadway musicals, starring most notably in Les Misérables as Fantine. She has also released a CD and writes a column on skin care for Soap Opera Digest.
External links
Edit
Community content is available under
CC-BY-SA
unless otherwise noted.