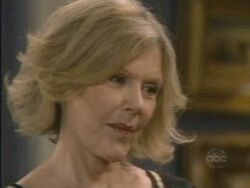 Agatha "Addie" Cramer (formerly Vickers) was the older sister of Dr. Dorian Cramer Lord and mother to Blair Cramer, and has been portrayed by Pamela Payton-Wright since 1991-99, 2001-2005, and 2007-2012.[1]
Blair Daimler comes to Llanview in 1991 with a secret — she is the daughter of Dorian's older sister Addie Cramer. Mentally ill and institutionalized for years, Addie is now hidden in Blair's loft. Blair blames Dorian for her mother's illness and her own childhood in foster care; Blair is apparently the result of Addie's rape at the hands of an unknown man in the sanitarium. Seeking revenge, Blair tries to ruin Dorian by getting her aunt's signature on a document confessing to the murder of her husband Victor Lord in 1976. Blair then plots to marry Asa Buchanan to gain the financial security and power she needs to care for her mother and destroy Dorian. It is revealed that Dorian had been told that Addie had died by their parents, who had institutionalized her. Blair and Dorian reconcile, and Dorian is tearfully reuinted with sister Addie, who calls her "Dori." Sweet but simple-minded Addie is placed in St. Ann's sanitarium for full-time care, but is visited often by her family.[1]
Addie surprises the Cramers on December 24, 2007 when she appears at Dorian's home La Boulaie. Apparently "recovered" due to a new medication, Addie is anxious to make up for lost time.[1][2] She sets things straight with on-again, off-again son-in-law Todd Manning and flirts with Dorian's new friend Charlie Banks. While at Roxy Balsom's beauty salon, Addie seems to recognize Miles Laurence, whom she's never met; they commiserate on the fact that they have both spent most of their lives in hospitals. On February 5, 2008, Addie is relieved by her assessment that Dorian is no longer a "Viki wanna-be," reminding Dorian of her persistent use of the Lord name, "running a newspaper like hers, naming your house," and shared romantic partners — as well as Dorian's romance with Viki's son Joey. "And I thought you weren't paying attention," notes a flabbergasted Dorian.
On June 18, 2008, the extroverted Addie reveals that she has married Dorian's ex-husband David Vickers, but her torrid "friends with benefits" relationship with David comes to a swift end when she realizes he still carries a torch for Dorian; they part amicably.[1]
Cite error: <ref> tags exist, but no <references/> tag was found
Community content is available under
CC-BY-SA
unless otherwise noted.